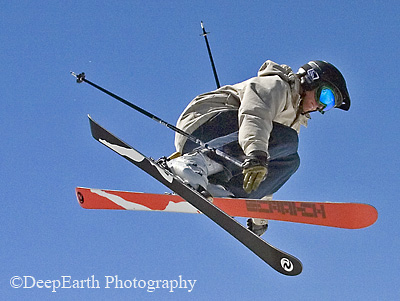 Photo usage agreements allow you to use (reproduce, print, display in print or on the web) photography from DeepEarth for your project. By entering into a photo usage agreement with DeepEarth, you are purchasing "rights" to the image - either for your own exclusive usage only (Rights Protected Licensing), or for usage where other purchasers may also enter into usage agreements for the same image (Royalty Free Licensing). DeepEarth has offered a small percentage of its images for licensing through stock agency partners; these images are available for purchase through those vendors with both rights-protected and royalty-free licensing terms.

Current Stock Photography Offerings at
Current Stock Photography Offerings at
Royalty Free Licensing
Royalty free licensing is the most popular and least expensive way to obtain legal usage of a DeepEarth image. The royalty free license grants you non-exclusive use of the selected image in as many projects as you like, for a one-time flat fee. Once you purchase an image, it is pre-cleared and ready-to-use in promotional media: advertising, brochures, packaging, web sites, multimedia projects, and more. There are very few restrictions placed on how you can use these images. The royalty free license also allows you to alter an image and create unique works of your own. Royalty free does not include use for any products for sale, or for corporate brand or trademark uses. These kinds of photo uses require a rights protected photo license agreement.

Royalty free images are available for limited uses. By using this website or using royalty free images it is understood that you agree to the terms limiting these uses. Please contact us if you require additional rights. The category of Royalty Free images are a select group of images. Not all photos are available with this Royalty Free agreement because of prior obligations to Rights Protected License customers. Terms and conditions of Royalty Free image licenses for sale through stock photography agencies are set by those individual agencies. These terms apply for images sold directly by DeepEarth Photography only.

By using an image under this agreement you are bound by this agreement. If you do not wish to accept these terms, do not use the images.

Upon payment of purchase price and compliance with your invoice terms and this agreement, you will receive a non-exclusive, non-transferable right to use and reproduce Images in our Royalty Free collection as follows: For any printed promotional items that are "not for sale at retail or wholesale level." Promotional uses are acceptable as cards, brochures, reports, flyers, educational textbooks, editorials, CD covers, newsletters, or other promotions that are not for sale. Unauthorized "retail photo products" include, without limitation any item produced for sale at retail or wholesale. Also, any trademark use is not authorized. These types of usage require a Rights Protected license.

Your purchase of Royalty-Free work is non-transferable. Your purchase is for your own use, or for your client or employer who authorized you to make the purchase for their use. You may not sell, rent, loan, give, sublicense, or otherwise transfer to anyone either the CD and/or image or the right to use the CD or an image, (except as the image has been used by you for the permitted promotional use as described in your license). Nothing you produce with the image shall grant or encourage any one else to use or duplicate the Image. You agree to take all commercially reasonable steps to prevent third parties from duplicating or distributing the image. Applicable sales taxes may apply to your purchase.

To purchase a Royalty Free image from the DeepEarth collection, utilize one of our stock photography partners or contact DeepEarth directly. Pricing for Royalty Free licenses depends on the image, usage, print run, duration, industry, and the territory the image will be used in.


Rights Protected (Traditional) Licensing
Rights protection can be an advantage for high-profile projects, such as ad campaigns and promotions. When you use traditional licensing, you are assured of the limited use of the image. You can even request exclusive rights to that image to eliminate its simultaneous use by other agencies and competitors (generally through prior Royalty Free agreements, if any exist). You can request unique usage for yourself only which will effectively take the image off the market; you can use the image for items for sale at the retail or wholesale level; you can use the image as part of your trademark; and any other number of requests.

When you use rights managed content, the usage rights are defined and negotiated for your specific project needs. You have access to thousands of single images, many which are unique. The license you have defines how many times the image can be used and in what way. If your project and budget warrant it, DeepEarth Photography can even provide you with exclusive or limited exclusive use in your market niche.
Pricing for Rights Protected images varies by how you plan to use them. Factors that affect price include the intended print run, intended use, reproduction size, distribution, and whether you want to purchase exclusive rights. Another usually less expensive way to obtain Rights Protected images is to hire DeepEarth for assignment photography. Applicable sales taxes may apply to your purchase.

To purchase a Rights Protected image from the DeepEarth collection, utilize one of our stock photography partners or contact DeepEarth directly. Pricing for Rights Protected licenses depends on the image, usage, print run, duration, industry, and the territory the image will be used in.



Kelly Bates, Photographer
All content © 2004-22 DeepEarth Photography